Now celebrating their tenth anniversary in the same San Francisco location, Market Street Gallery specializes in exhibiting paintings, prints, photographs and works on paper of emerging and established Bay Area artists.

Located in the Hayes Gallery is one of several fine art galleries inhabiting Gallery is one of several fine art galleries inhabiting the neighborhood. À large number of outstanding antique stores, specialty furniture stores, boutiques and fine restaurants are located nearby.

Open uesday through Friday. 11AM - 5PM, Saturday 1-5PM, and by appointment.





PAINTINGS BY ANTHONY HOLDSWORTH
Solo Exhibition
EXHIBITION: January 7th - 21st
RECEPTION: Friday, January 14th, 6-9 pm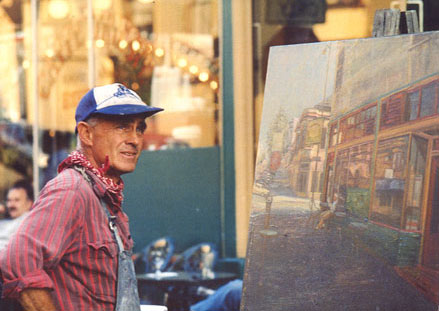 Anthony Holdsworth works on location in the city. The urban landscape is an accurate and disquieting testament to our common condition. He encounters it first-hand in the hope of conveying its original intensity. Though often devoid of people these 'cityscapes' emerge from his interaction with passersby and inhabitants at each site.
Music performance by acclaimed Circle V.
The guitar trio featuring Igor Abuladze, Dudlas Erickson and Lance Halvorsen.
The artist reception is free and open to the public.
<<back