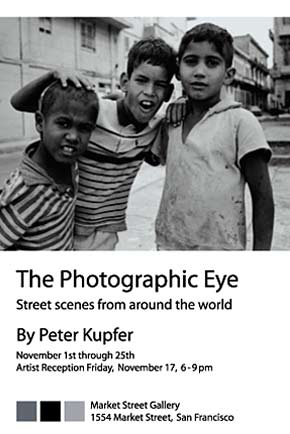 Market Street Gallery (1554 Market Street, San Francisco) is located in the Hayes Valley area, Market Street Gallery is one of several fine art galleries inhabiting the neighborhood. A large number of outstanding antique stores, specialty furniture stores, boutiques and fine restaurants are located nearby.

Open Tuesday through Friday:
11 AM - 5PM
Saturday: 1-5PM
and by appointment.




THE PHOTOGRAPHIC EYE

EXHIBITION: November 1st - 25th
RECEPTION: Friday, November 17th
6:00 PM-9:00 PM

Market Street Gallery is pleased to present an exhibition of San Francisco-based photographer Peter Kupfer. The images in this exhibition were taken over a span of more than 30 years in settings ranging from Havana, Cuzco and Mexico City to Paris, Prague and San Francisco.

In each of them Kupfer looks to capture what Henri-Cartier Bresson famously called "the decisive moment" – a moment that reveals the unique character of his subject, whether it's three boys playing along the Malecón in Havana or a pair of women running naked on Baker Beach in San Francisco. To Kupfer, this is the beauty and the power of photography: its ability to capture raw reality – unposed, unvarnished and unmanipulated.

All the images in this show are selenium-toned gelatin silver prints. They were printed by the photographer using archival materials and processes. His work has previously been exhibited at Aranciata Amara, La Casa del Libro and Live Worms Gallery in San Francisco, as well as the Archetype Gallery in New Haven, and the Jewish Museum in New York.

A reception with the artist photographer is planned for the evening of Friday, Nov. 17th, where the artist will be available to speak about the work.