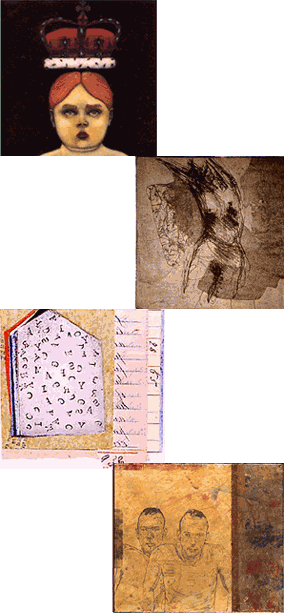 Now celebrating their tenth anniversary in the same San Francisco location, Market Street Gallery specializes in exhibiting paintings, prints, photographs and works on paper of emerging and established Bay Area artists.

Located in the Hayes Valley area, Market Street Gallery is one of several fine art galleries inhabiting the neighborhood. A large number of outstanding antique stores, specialty furniture stores, boutiques and fine restaurants are located nearby.

Open Tuesday through Friday,
11 AM - 5PM, Saturday 1-5PM,
and by appointment.




3+3 - Work on Paper
by Six Bay-Area Artists

EXHIBITION: June 7th - July 2nd
RECEPTION: Friday, June 24, 6-9 pm


Please join us for an exhibition of the work of five local artists:

Richard Bollingbroke (watercolor),
James Groleau (mezzotint),
Marti McKee (etchings),
Linda Masotti (collage),
Andrew Ogus (mixed media),
Sandra Ortiz-Taylor (mixed media)

Richard Bollingbroke works primarily in watercolor. Depicting objects that have personal meaning for him, he honors the intrinsic energy and symbolism in these objects, allowing them to work their own magic to create connections of mystery and insight.

James Groleau's work is influenced by the vaguely haunted look of 19th century daguerreotypes, particularly to the portraiture of children. His technique is color mezzotint, a particularly laborious printmaking type of printmaking.

Marti McKee has studied the figure to the exclusion of other organic matter. Her work seems to represent the mysterious alchemical combination of craft, labor and stirrings from the unconscious.

Linda Masotti works in various mediums: printmaking, painting and mixed media. Whether through construction and assemblage, or through the printed medium, the vehicles of encaustic, found objects and collage all give voice to the choices we make: fragments of images are re-shaped, altered or replaced by a later choice.

Sandra Ortiz-Taylor's work frequently springs from a narrative impulse which reflects her susceptibility to literature as well as visual art, a love for language and ideas as well as line and color.

<<back